Below is a list of the current ISPA Board of Directors.  The ISPA Board of Directors is comprised of five volunteers who have been elected by the ISPA membership to serve for a term of up to two years (depending on position) to continue the progress of guiding and structuring the sport, however deal with ISPA business via email on a daily basis.  The Board meets regularly, at least once per month (times vary because of multiple time zones that Board members are in) via Skype conference call.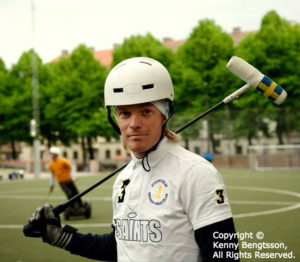 Alexander van Riesen
Chairman
Born in Sweden in 1971
Segway Polo: Stood on a Segway the first time in 2008 and said "you just have to use this machine to play a form of polo – segway polo". Googled and found that such a sport where already in creation! Where teams had formed in USA, Barbados and Germany among other places. Directly then created the team Stockholm Saints in 2008 as well as founding Stockholm Segway Polo Club in 2010. Sthlm Saints played in its first major tournament, Woz Challenge Cup (World Cup), in 2010 in Barbados, coming fifth place out of eight. Have participated in every World Cup ever since. 2012 he took initiative for Stockholm Segway Polo Club to arrange Woz Challenge Cup in Stockholm, acting as a Chief Event Manager. In 2013 Sthlm Saints became World Champions at the World Cup in Washington DC, USA.2014-2016 he was Vice Chairman on the BoD of ISPA. Has a big heart and passion for Segway Polo: "The Sport of Equals", and a ambition to let more people of all ages experience this great sport.
Professional background: Founder, CEO, Entrepreneur and Management Consultant. A results-oriented person with over 20 years experience working with sales, marketing, business development, technology /digital development (web, social media, mobile and e-commerce), management, strategy and organizational consulting. Have had consistent success in creating and executing on strategies, leveraging teams, establishing new IT-solutions, change management projects, rolling out programs, establishing new solutions as well as forming partnerships and alliances.
Hobbies & Interests: Are spanning over a wide area from Segway Polo, Sailing, Diving, Snowboarding and Traveling among others.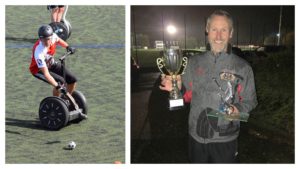 Andreas Loeffl
Vice Chairman
Andreas was born 1968 in Hannover, Germany, and he is still living there.
After finishing his education as an electro-technician he was self-employed with planning industry units and advise customers in using a unique construction software for this special kind of business for around 20 years.
Since 2008 he is owner of a Segway tour company with actual 46 i2 and also has some virtual flight simulators for events.
Andreas came in contact with Segwaypolo exactly at the 4th of march 2010 meeting Olaf Funke and some other guys in the City of Solingen and he was exited from the first minute on – unfortunately his tourism business was growing and there has been no considerable remaining battery-capacity after the daily tours to play regularly Segwaypolo in the evening hours…
But he keeps the idea and was playing a couple of times with his tourguide employees and some friends within Marc Rohnke from the City of Hildesheim, which is only 30km far, and a sponsor – by chance – founded the Hildesheim "Hi-Rose" Segwaypolo team in 2013 and he could join their practice every week.
When "Hi-Rose" spontaneously loses the sponsor and has to quit, Andreas and Marc took the chance and together with the former Hildesheim players Sven, Jan, Siegmar, Gert and Ulli the "Hannover HotWheels" Segwaypolo team was established in November 2014.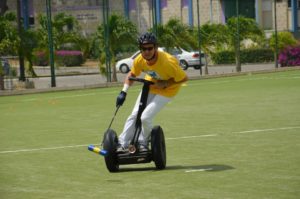 Michael O'Connor
Treasurer
Born in Atchison, Kansas USA in 1961, two grown children, one grandson
Raised in Indiana, lived 30 years in Northern California, now in Dallas, TX
Currently working as Director of Sales Engineer for Oracle Corporation
Hobbies: Yoga, travel, wake boarding, technology, motorsports
Segway Polo: Major Tournaments: WozCup 2011, 2012, 2015 and Euro-Cup in 2016

Having started practicing in the spring of 2011, I volunteered to assist with Woz Cup 2011 preparation in Folsom, CA. Much to my surprise, I was invited to play on the Folsom Breakout. From that amazing experience I knew this sport and fellow players would become an important part of my life. Although the Folsom Breakout existing only for a brief time, the connections I made allowed me to continue to develop my game and resulted in new friends and opportunites to travel, play with many wonderful teams and to participate in over a dozen tournaments. Perhaps more importantly, the sport has enabled me to develop what I trust will prove to be life-long friends and extended family. If you've not yet tried Segway Polo, I encourage you to check it out. You'll be glad you did!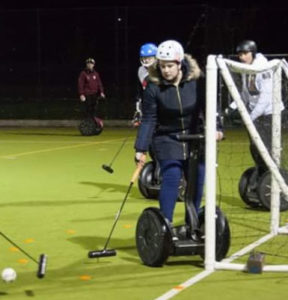 Megan Scott
Secretary
Megan is 22, born 1995, in the Midlands in England, UK. She lives on a farm in the quiet, tranquil countryside. After finishing her higher education, she now works in the automotive industry.
Megan learned about Segway Polo through a business event in September 2014 where she met Mark, April and Drew. She was intrigued though hesitant at first but began to play regularly on weekends, as the team's numbers grew and grew.
Mark's partner, April, had the idea to host the first UK tournament which was a great success and a few small engagements followed with visits from other teams internationally. This led to the set up of the first Segway Polo league. Megan has been to many of the international tournaments playing for a variety of different teams. She was even part of the winning team in Barbados in 2016.
To document her journey and passion in playing Segway Polo and to expose the sport to others through a player's eyes, she started a blog which has many monthly views. She is also very active on social media. She still plays Segway Polo but as a floating player and is always looking for an invitation to play.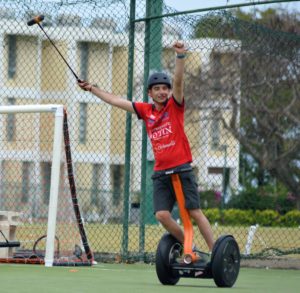 Roberto Sanchez Montero
Member at Large